About:
The Lady Luck stickered dollars are some of the most common coins that can be found. This is a common coin for those starting out their collection. I have seen these stickers in $2, $2.50, $3.00, $4.50 and $5.00 denominations. There most likely are more, which based on the dollar amount on the sticker would/could substantially add to the coins value.
These coins can have several different sticker variations. Some stickers have Las Vagas Nev on them where others leave out the location all together. The images below are a good example of what you might find.
History:
These coins were used by the Lady Luck Casino in slot machines as payout coins. They could then be exchanged for the dollar amount. Many visitors would keep these coins as a memento of their trip.
Note:If you have any more history of these coins or a story about these coins please leave a comment.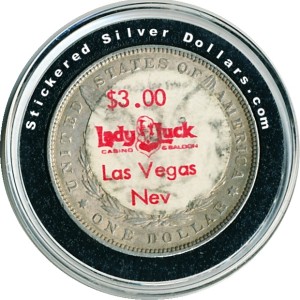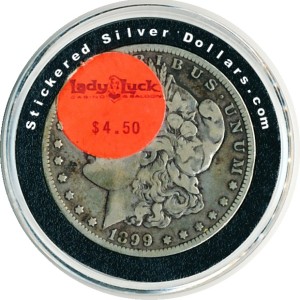 Overall Rating for Lady Luck Stickered Dollars
Price
Note that prices can very based on condition of coin, condition of the sticker, and rarity of sticker.
Rarity
Rarity is based on how often coins show up in auctions, coin shows, and number of stickered coins created.